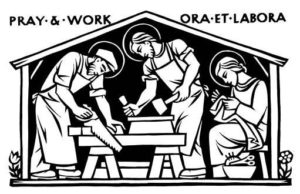 We took a break for the summer (and also walked 150 k from Lindsay to Martyrs' Shrine) but Ora et Labora, a night of prayer and purposeful work for high school students, is on for September 1st from 6 pm to 9 pm.
From 6 to 7 we will be at St Mary's Rectory Chapel for Adoration of the Blessed Sacrament and Confession.
From 7 to 9 we will be making vestment stands and woodburning plaques for the Catechesis of the Good Shepherd. We will also learn about St Louis de Monfort's Total Consecration to Our Lady.
It's powerful spiritual battle plan and we'll find out how God can achieve great things in us through Mary.