Dear Parents,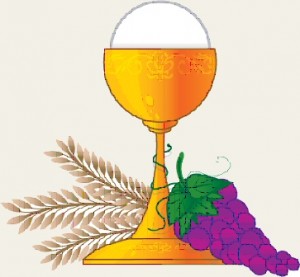 Greetings from the Pastoral Team of St. Mary's Church. The next school year will be soon upon us and your child will be receiving the Sacrament of Reconciliation in the Fall of the year, and the Sacrament of the Eucharist in the Spring of following year. As a Parish, we are looking forward to sharing with you this journey of faith as your child prepares to receive his/her First Communion.
Your role in nurturing the gift of faith God has placed in your child is essential. Christian parenting is a holy vocation, a sacred responsibility of bringing your family to know and live the "good news" of Jesus and our Catholic faith. We invite you each day to ask for the grace of the Holy Spirit so that you can be the heart and hands of Jesus in your family. We pray that you may be blessed in seeing your child grow "in wisdom, age and grace", as Mary and Joseph experienced in Jesus. (Luke 2:52)
We would like to offer two strong encouragements to you for the coming days of preparation and, perhaps more importantly, in all the days after your child's First Eucharist. First, we hope you will strive to attend to your own faith life, seeking to continue to understand our Catholic faith and how it can be a rich source of hope and meaning for life. In Baptism, each of us was set forth on a journey of a lifetime, on which we are called to faithful Christian discipleship. Our faith continues to grow and develop daily as we desire to live out our Baptismal identity ever more deeply.
Secondly, we encourage you to value the precious gift of celebrating the Liturgy of the Eucharist each Sunday with your parish community. For 2000 years, this liturgy, our Mass, has been the core Christian act, the centrepiece for life as the Body of Christ, the Church. Liturgy is as much "who we are" as "what we do". It is, since the time of the Apostles, where we have come to be fed in Word, Sacrament and Community. It is where we not only give worship to God and obey Christ's command to "do this in memory of me" (Luke 22:19), but also where we nourish ourselves and support one another for the remarkable and ordinary challenges of living the week ahead. In short, if Baptism has set us on a journey, Eucharist is our food for the journey.
Dear friends in Christ, you are precious in the eyes of our God and to our Church! You have been called to bring yet another generation into relationship with Christ. Please see your child's First Eucharist as a beautiful beginning for your entire family. While formal preparation for First Eucharist is a few months away, you can begin the preparation in your home this summer by talking to your child about what is the Sacrament of the Eucharist and what is going to happen and, most importantly, by bringing your family to Mass every Sunday, where you will be fed and strengthened by Jesus himself in the Eucharist. No greater gift can you give to your child than a deeply rooted belief in Jesus Christ.
On a practical note, in order for your child to receive First Reconciliation and First Holy Communion you will need to provide the school with his/her Baptismal certificate closer to the time of preparation.
If your child has not been baptized and you wish him or her to receive First Communion, please contact us as soon as possible to begin the process of preparation for Baptism.
With these words, be assured of our prayers and support and we wish you a safe and relaxing summer.
Yours in Christ,
Father Tom, Father Eric, and Sister Loretta
St. Mary's Pastoral Team