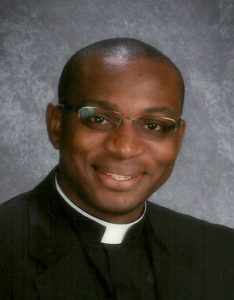 Father Balonwu Okpe met with our Parish Vocation Team so we could get to know this new Administrator with whom our parish has been blessed. Fr. Balonwu was born in Nsukka, Nigeria, on the 17th of July 1973. His family moved to Enugu, Nigeria when he was three years old. He comes from the Igbo ethnic group of Eastern Nigeria.
When Fr. Balonwu was asked about his vocational journey, he reported that there was little or no journey of conversion. He explained that he knew his vocation from the time he was able to tell people what he wanted to be, which was around five or six years of age. His family attended daily mass and he wanted to be "one of those people," referring to priests on the altar. He began serving at Mass at a very early age.
Entering the St John Cross Seminary in Enugu at 19 for a year of orientation, Fr. Balonwu then spent another year of junior apostolic work at Sacred Heart Parish in Iwollo, and another year of spiritual formation before being sent to Bigard Memorial Seminary in Enugu for four years of philosophy. He did his theological studies at the Blessed Iwene Tansi Seminary in Onitsha and was ordained on July 10, 2004. His first posting after ordination was as a formation advisor for St Bernard Seminary, where every year, for six years, he was in charge of about 30 seminarians; living with them, celebrating mass for them and learning everything about them. He prepared and sent written reports about them to the bishop at the end of each academic year.
Fr. Balonwu came to North America in 2010 to study, and received a master's degree from Ohio Dominican University while he worked for the Diocese of Columbus. In August 2015, he came to the Diocese of Peterborough. He had worked at St. Alphonsus Parish and the Cathedral before being sent to Lindsay.
Father Balonwu, welcome and God bless!