PARISH YARD SALE 21-22 OCTOBER
Donations of good clean and re-useable and re-saleable items are currently being accepted. If you need someone to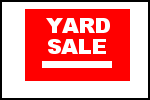 pick up items please call the rectory at 705-324-4828. Volunteers are needed to help with setup on Friday at 9:00 a.m. both at the rectory and the school gym, to help with the sale on Saturday and Sunday and to help clean up after the 11:00 a.m. Mass on Sunday afternoon. All ages can help young to older! Thanks for your time and support.
A BIG THANK YOU
To everyone who helped clear up the floor in the church. Your hard work is greatly appreciated.
Also a big thank you to all our volunteers in the parish, we could not do what we do in the parish without all of you.