Just a reminder and a venue change!!
Celebrating St. Mary's Parish 175th Anniversary
Save the Date Saturday, June 27, 2015
VICTORIAN TEA & FASHION SHOW FUNDRAISER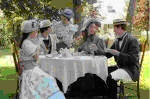 St. Mary's School NOON – 2:00 P.M. (just in case it rains on our event)
TICKET PRICE $20.00 PER PERSON
Tickets can also be reserved by contacting Parish Office by phone 705-324-4828 and you can also call Mary Catherine Darroch 340-5353 Mary Eleanor Henley 324-3899. Tickets will be sold at the Church entrances after each Mass commencing June 6th to June 21st.
Your support is very much appreciated.
A prize will be awarded for the best Victorian Head Piece.
---
Donate to the St. Mary's Restoration Program charity in JUNE and CanadaHelps.org will automatically enter St. Mary's to win a $10,000 donation.
The more you give, the more chances St. Mary's Restoration Program will have to win!
Now go to the CanadaHelps.org website and search for our charity to GIVE.