THE TEMPTATION OF JESUS IN THE DESERT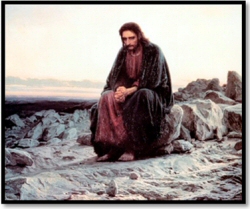 Do you ever feel compelled or driven to do something radical for God? Jesus was led by the Holy Spirit to spend forty days and nights in prayer and fasting in a lonely place. Why was he compelled to seek solitude for such a lengthy period? Was it simply a test to prepare him for his ministry? Or did Satan lure him into a trap? The word tempt in English usually means to entice to sin. The scriptural word here also means test in the sense of proving and purifying someone to see if one is ready for the task at hand. We test pilots to see that they are fit to fly. Likewise God tests his servants to see if they are fit to be used by him. God tested Abraham to prove his faith. The Israelites were sorely tested in Egypt before God delivered them from their enemies. Jesus was no exception to this testing. Satan will surely tempt us and will try his best to get us to make choices that will lead us to choose our will over God's. If he can't make us renounce our faith or sin mortally, he will the try to get us to make choices that will, little by little, lead us away from God and what God wants for us. This will happen without us even being aware of it. Satan is so subtle! And is a being of many disguises. So we must learn to recognize what comes from God and what comes from Satan. We must pray every day that God will show us what is from him and what is from the devil; what is good and what is bad. Then we can make the right choices and not fail the tests that come our way.
Jesus was tempted like us and he overcame not by his own human strength but by the grace and strength which his Father gave to him. He had to renounce his will for the will of his Father. He succeeded because he wanted to please his Father and he trusted that his Father would give him the strength to overcome the obstacles that stood in the way. Luke says that Jesus was "full of the Holy Spirit" (Luke 4:1). When tempted by the devil, Jesus did not try to fight the adversary on his own human strength. He relied on the power which the Spirit gave him. Jesus came to overthrow the evil one who held us captive to sin and fear of death (Hebrews 2:14). His obedience to his Father's will and his willingness to embrace the cross reversed the curse of Adam's disobedience. His victory over sin and death won for us not only pardon for our sins but adoption as sons and daughters of God
How can we overcome sin and oppression in our personal lives? The Lord gives us the Holy Spirit to be our strength, guide and consoler in temptation and testing. The Lord Jesus is ever ready to pour out his Spirit upon us that we may have the strength and courage to resist sin and to reject the lies and deceits of our enemy. God wants us to "fight the good fight of the faith" (1 Tim. 6:12) with the power and strength which comes from the Holy Spirit. Do you rely on the Lord for your strength and help?
"Lord your word is life and joy for me. Fill me with your Holy Spirit that I may have the strength and courage to embrace your will in all things and to renounce whatever is contrary to it."