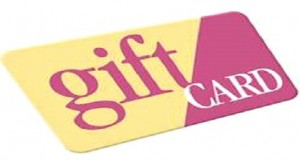 What are Support Cards?
They are gift cards St. Mary's Church purchases from local businesses at a discounted amount of either 5% or 10%, (i.e. St. Mary's buys a $100 Presidents Choice card for $95 or $100 Swiss Chalet card for $90. We sell this $100 card to you for $100. St. Mary's gets the $5 or $10 profit on every $100 worth of cards sold). Since the program began in 2010, we have raised approximately $147,000 for the Restoration Today for Tomorrow Campaign.
Where Can I Buy Support Cards?
Support Cards can be purchased before or after each weekend Mass at the back of the Church.
Support Cards can be purchased at the church office any time during the week during business hours.
We only accept cash or cheque (debit or credit cards reduce our profit).
YOU PAY $100 FORA $100 CARD. YOU GET FULL VALUE FOR YOUR $100.
How Do I Use Support Cards?
Use support cards daily to purchase your groceries, coffee, lunch, dinner, hardware, miscellaneous items or gas.
Use support cards for birthdays, anniversaries, students etc.
What Cards Can I Buy?
Canadian Tire $25 $50 $100
Food Basics $25 $50 $100
Giant Tiger $25 $50
Home Hardware $25 $50 $100
Lamantia's $20
Presidents Choice $25 $50 $100 250
Swiss Chalet $25 $50
Tim Hortons $10 $25 $50
As you can see by the amount we have raised (approx. $147,000) this is an easy, effortless and effective method to support St. Mary's at no expense to yourself. It is also a great way to support local businesses.
IF NOT ON BOARD ALREADY, PLEASE GIVE IT A TRY!
Thank you.
Restoration Today for Tomorrow Campaign