"The harvest is plentiful but the laborers are few." Luke 10:2″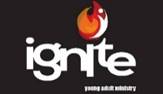 Ignite will be hosting a Theology on Tap on Saturday, December 3rd at 7pm at Champ's Sports Bar. Our speaker will be Michael Hall of Catholic Christian Outreach.
We would like to invite any and all young people to come out and join us for an evening of fellowship and discussion! For questions, please direct your emails to igniteptbo@gmail.com.